Bryant supports Poll Everywhere for in-class polling. With its "bring your own device" cloud-based polling paradigm, Poll Everywhere gives users the freedom to utilize it both in-person and in an online classroom setting.
Poll Everywhere offers a wide range of question types, such as rating, clickable graphics, and short answers. You can poll students to obtain their immediate, formative input, which can be used to assess students' conceptual comprehension and provide fresh tactics for getting them to engage in higher-order thinking.
Static links for Poll Everywhere questions can be created in addition to live polling, and these links can be used to pose a question via a poll in an asynchronous setting via email, posting on Canvas, or other online forum.
join Bryant's poll everywhere account
To fully take advantage of Poll Everywhere, you'll want to join Bryant's Poll Everywhere account. Go to Poll Everywhere and click the "Sign Up' button in the top right to join Poll Everywhere. Join Poll Everywhere as a 'Presenter'.
Fill out the form, and make sure to use your Bryant email address. Once your account has been verified, send an email to Stephen Payne who will then send an invitation (via Poll Everywhere) to join Bryant's Poll Everywhere account.
Note:
In order to use Poll Everywhere within Canvas, this step must be completed first.
Create a Poll Everywhere Connection
Login to Canvas and go to the course that you wish to connect with Poll Everywhere.
Click on Modules from your course menu.
Click the '+ Module' button to create a New Module and name the module 'Poll Everywhere Home'.
Within your new module, click the '+' button. From the dropdown menu at the top of the popup window, select 'External Tool', then select Poll Everywhere.
Note:
Do not publish this module. This module is for your access only.
Lastly, check the 'Load in a new tab' checkbox and click 'Add Item' to save.
Click on the new Poll Everywhere link that you made within the module.
Click the 'Load Poll Everywhere in a new window' button to launch the Poll Everywhere connection.
In the new tab, you will acknowledge you are launching Poll Everywhere through Canvas.
sync/re-sync course roster
SYNC
After acknowledging you are launching Poll Everwhere through Canvas, on the next page you will see your course title and a button to 'Sync roster' to import the students from your course into Poll Everywhere.
Click the button and a new  page will inform you that the participant import is proceeding, and you will see a 'Go to Participants page' button.
Wait a few moments, then go to the participants page, and you will be able to verify that the import took place because there will be a new group named after your course with students in that course.
RE-SYNC
You can re-sync the participant roster for your course at any time. Re-syncing will create Poll Everywhere participant profiles for new students and add them to your Poll Everywhere participant group, while removing dropped students from your participants group.
Navigate to Participants within the Poll Everywhere page and click on the LMS Courses link in the top row of buttons.

From the LMS courses screen, you will see all of the courses you have connected with Poll Everywhere.
From here, you can re-sync your student participants by clicking the "Sync Roster" button.
create a poll everywhere activity
A Poll Everywhere 'Activity' is a single question or prompt you pose to your audience. Activities allow presenters to gather responses or questions from the audience. Poll Everywhere has a number of different activities that you can choose from. Below is a list of their main activities.
Once you have decided on an activity, this GUIDE will walk you through the creation process.
export a gradebook report
Once you have collected some activity results from students, you can export those results to Canvas. Each report you export will create a single gradebook column in Canvas, regardless of the number of activities in the report. Poll Everywhere Gradebook reports can either be exported as a graded assessment or for participation.
Navigate to your Reports.
Click Create a report.
Choose Gradebook.
Choose the Activity you wish to report.
Click Create a Report.
If you wish your Gradebook column name to be different from the name of your activity, click the Rename link at the top of the report.
Click the Export button at the bottom right when you are ready to export the grades to Canvas.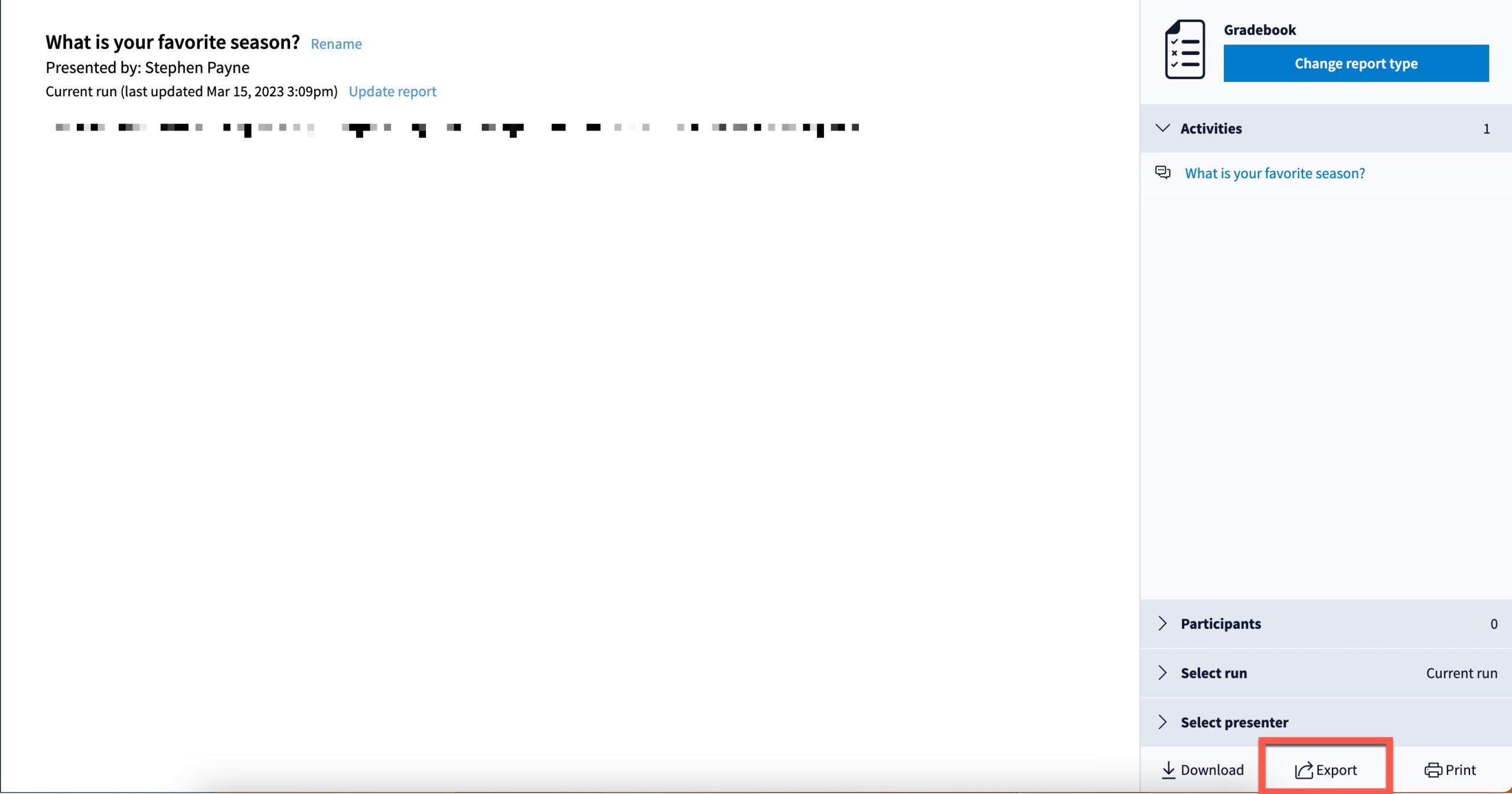 A popup will ask you to select the course to export the report to from a dropdown menu and whether to export the Grades or Participation column from the report.
Make your selections, then click Next.
Note:
The grades column will only be shown if polls in the report are multiple choice and instructors have marked each poll with a correct response during poll creation.
The following pop-up will now filter the report by the participants in your LMS Course and start the export.
You should then see a message indicating that the export has completed and is processing in the background.
Once the export is complete, head back over to Canvas and click into your Gradebook to verify that the new Gradebook column was created.